Day 4: The Ditch Day
RIDE FACTS
From: Ashland, VA
To: Near Kent's Store, VA
Distance: Exact unknown. About 65 miles
Time: Unknown
View Garmin Data (includes ride in sheriffs' car by Precious at the end)>
I am typing this with one hand. I wish that was as dirty as it sounds. But it's not and I'll explain that in a minute.
But first, let's catch up. After a restful night in Ashland, I set off on what I planned to be a long mileage day. First stop would be Mineral for lunch, then on to just outside Charlottesville to a KOA. About 95 miles, give or take.
It ended up being "take" day. Definitely a take.
But you don't know things are going to go pear shaped when you're starting out, all fresh in the legs and filled with hope and wonder. You think things'll be apples. So, I hit the road early on. In town, I cycled along for a while with a roadie who was happy to hear about my adventure, and who told me I was going to hit some hills today. Perhaps an hour after that, I did. My first real test of climbing prowess.
I got a little way up this horribly steep hill before realizing I was in too big a gear. Rather than walk the rest of the way up, I became curious as to my ability, so turned around and went back to the bottom to give it a go for real. It was quite an effort and I felt my heart beating in my ears, but I made it pretty easily in the end. And I wasn't even in my granny! I am so glad I swallowed my pride and got the gears swapped out for the MTBing gears. So, so happy. One decision I will never regret.
This is all filler. I know you want to get to the one hand part.
On and on I went. Up and down rolling hills, through beautiful lane ways and cheered on by a phalanx of trees on either side of me. I breathed in the smells—I think the most prevalent for the day was jasmine. It's been a while since I've seen jasmine, but if you'd asked me to identify the white flowers from which I thought this fragrance was coming from, that's what I would have said.
---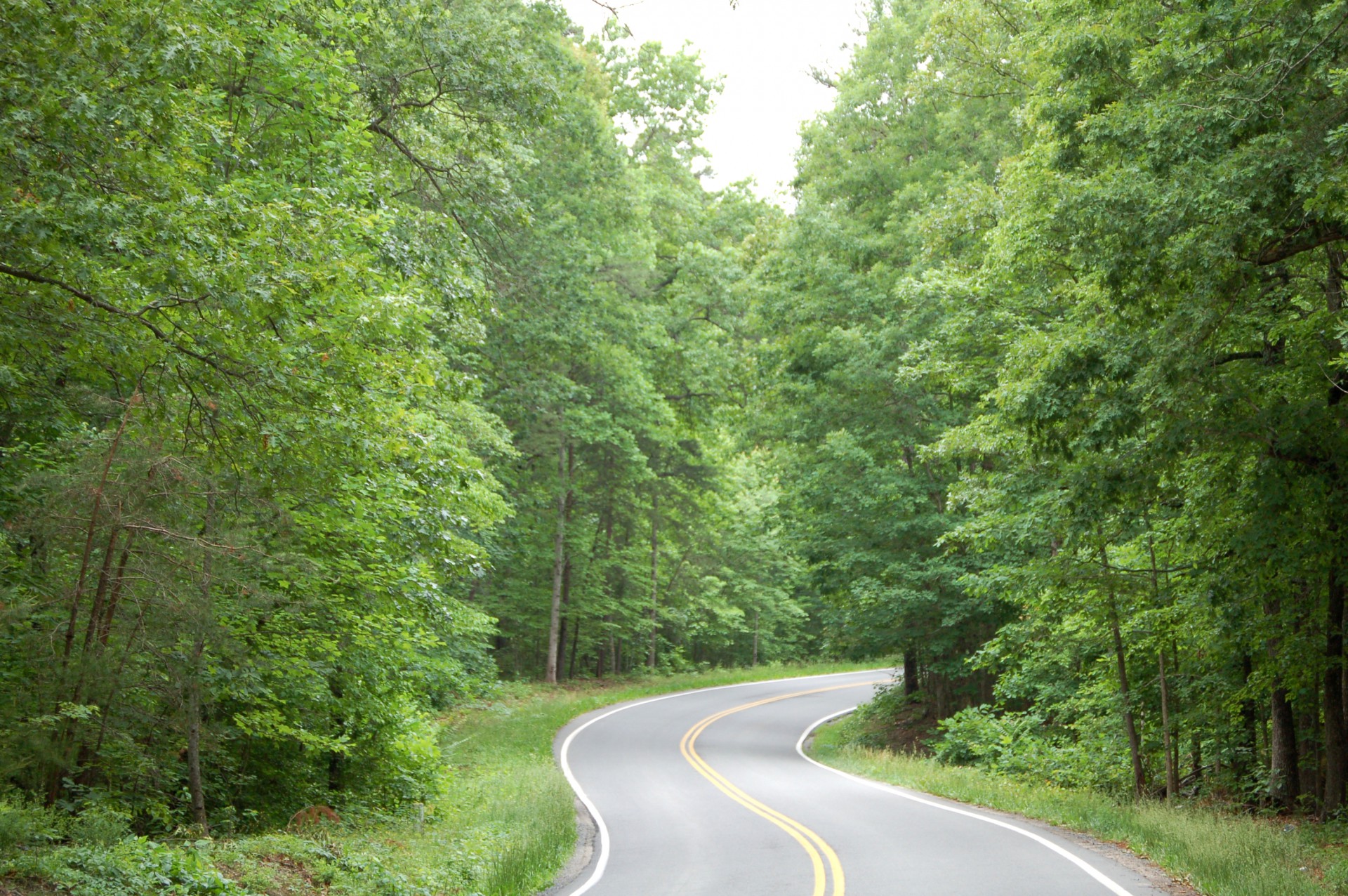 ---
I also experienced my first dog chase of the trip. Two young fellas, darting out from a front yard, one big and dopey retriever and his smaller yappy pal. Both gave chase, though it took a while for the retriever to give up. He didn't look like he'd bite, so I just picked up my pace, but a few others later in the day had angry, throaty barks that indicated a desire to rip my legs off. Thankfully, they were tied up, because the timbre of their barks made me pee my Mellow Johnny's a smidge.
Mineral brought me lunch in the form of a BBQ pork sandwich. I sat, writing in my notebook while chowing down and people gazing. I'd also been stopped in the parking lot by a guy in a pickup who'd said, "I met a couple of your countrymen earlier!" A sentence he quickly retracted when he heard my accent. Apparently, a couple of Brit cyclists are on their way to Alberta, and only a few hours in front of me.
Winding my way through a map panel or two and I found myself passing through Kent's Store. At least I think I passed through Kent's Store. This is where things start getting a little hazy.
This is 'round about where I lose things.
If you've flipped through the photos in this post, you're probably all, "Why the hell is she talking about trees and hills and lunch when it's obvious something dramatic happened!? Why the hell is she typing with one hand?"
Something dramatic did happen.
While coming down a steepish hill, I felt the trailer start to fishtail. I corrected, as far as I remember, but perhaps not as much as I thought. I distinctly remember thinking "Oh, shit, this is going to hurt".
And then I remember looking up at helicopter rotor blades. And that was MANY hours later. What happened in between is all a bit of a blur.
But I do remember other things. I remember my EMTs, Melinda and Bernie. I remember "Snoddy" the trooper, leaning over and telling me he was taking Precious to the police station. (I asked several times how Precious was, so he is known by name throughout Virginia now). I remember being put in the neck brace. I remember looking at my wrist and thinking 'that looks swollen, please don't be broken'.
I don't remember saying, with conviction, that the year was 2008. I don't remember waving to the woman in her yard at the top of the hill at some point that afternoon. Which, by all reports, I did. Two hours before they found me. I don't remember lying in a ditch for two hours, so I guess I was unconscious. I was asked if I remembered a car, as there was a skid mark before the scene. But since I don't remember a vehicle, and have some memory of the trailer issues, they think there probably wasn't one.
I do remember taking a photo of myself with my iPhone in the emergency room. In a neck brace. With blood all over my face. As I turned the white phone around, I remember noticing the blood on its pristine Apple finish. I remember asking for my RoadID, only to find it had flown off in the accident, but still being able to call Andrew. They found it later, after foraging around in the ditch.
---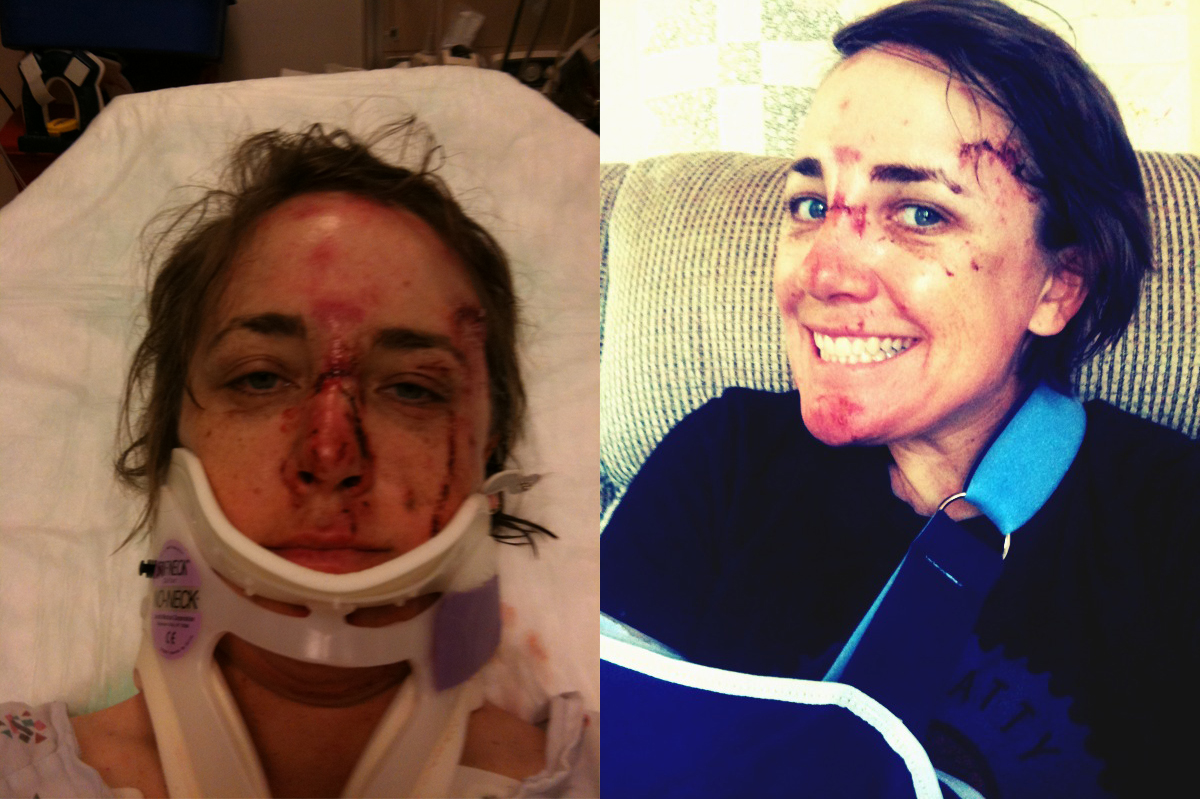 ---
I remember Andrew answering the call and me suddenly being incredibly embarrassed about having to explain what had happened. About how I had failed already. I hesitated about what to say, had a stumble in language and a sheepishness in my voice which made him fear the worst in terms of my brain function. I have since apologized for that and will for a long time to come.
A curtain pulled back and the EMTs came to visit. Bernie was holding a plastic bag filled with cash. They'd had a whip-'round as they figured I was by myself and had nothing. I declined to accept but remain incredibly touched by the humanity of strangers.
Melinda, my other EMT, ended up taking me home to her house. Like a lost puppy.
I'm finding it hard to express my gratitude as I write this and have just spontaneously welled up in the eye area. It's raining on my face. I've just been cutting onions. Seriously. I seem to get weepy a lot, which is in part to do with the fail thing, and in part about just how amazing people can be.
I look terrible. I have stitches in my face. My wrist is broken. I feel…
Disappointed. Like a failure. Wrecked.
Which is weird, because I've already decided that as soon as I can, I'm going to pick up the trail where I left it. I 100% have to finish what I started, and even though people's fears have been somewhat realized, I just can't abandon the dream. If my stupid wrist wasn't broken, you can bet your arse I'd be right out there now. A bit beaten up, and with stitches in my face, but out there!
I wanted to write a lot about determination and my plans for getting back out there, but I am now weeping quite openly in front of a beagle and I don't know why. At 1.45pm today, I'm taking my broken wrist to an ortho, where he'll hopefully tell me I can get back on the road in month.
And Precious. Poor Precious. I have to take him back to the shop for diagnosis. I hope he's ok!
This entry was supposed to be quite humorous, but I lost the thread somewhere in the middle. Sorry. I love you all. And I'm glad I'm ok. I'm glad helmets work. And I'm extremely glad I have friends who love me. My parents love you too.
Thanks to everyone who helped me out, medically and mentally, and thanks for all the kind words I received via Twitter, email, Dailymile and this blog. It has all helped, including the licks by dogs who aren't therapy dogs but could easily be.
Ride on!
---
Go to next post (10 weeks later!) > Day 5, TransAmerica 2.0
---