Day 1: The Tattoo Day
RIDE FACTS
From: Yorktown, VA
To: Williamsburg, VA
Distance: 16.86 miles
Time: 1:46:24
View Garmin Data >
I know, I know. I didn't get very far. But the start is the start is the start and you only start once. And I started. Though it feels like I'm starting twice because I'd stayed in Williamsburg the night before and now, I'm back.
Due to a mishap of planning, or what some people would call an 'idiot forgot something and needed to go buy a replacement PLUS still hadn't finished quite packing' move, we didn't get to Yorktown until 1:30 pm. By we, I mean Ray, Christy and Stella the dog. This was my send-off party.
We turned a corner and Ray called out a giant monument.
"That's the official start point—the Yorktown Victory Monument." I felt the need to call out the scene of the approaching crime, and a small cheer was raised. Stella remained quiet.
Continuing on down to Water Street, we were confronted by a scene of scantily clad, half-tanned people, and bad tattoos. The population may only be 203 people, but this joint was jumpin'. After several disappointing attempts to procure breakfast or lunch or brunch or even a snack, I said screw it and decided we should just get the tire dipping over with and put me on the road. It was already 2.30 pm and there was no way I was going to make it to my original goal. More to the point, Ray and Christy were in danger of not getting the ol' rental tank back on time. (Seriously, it was a tank of an SUV. GIANT.)
Further down Water Street, away from the thronging thongs, we found a small strip of beach. I quickly assembled Precious, grabbed my Boxing Kangaroo flag and proceeded to frolic around in the water. Precious seemed a little miffed about the wheel in the water thing, but he got over it pretty quickly when he noticed the lone bather smiling curiously at him from the comfort of her beach chair. Two toddlers paid us no mind.
Once the tire dipping was crossed off the list, we booked it on up to the Yorktown Victory Monument.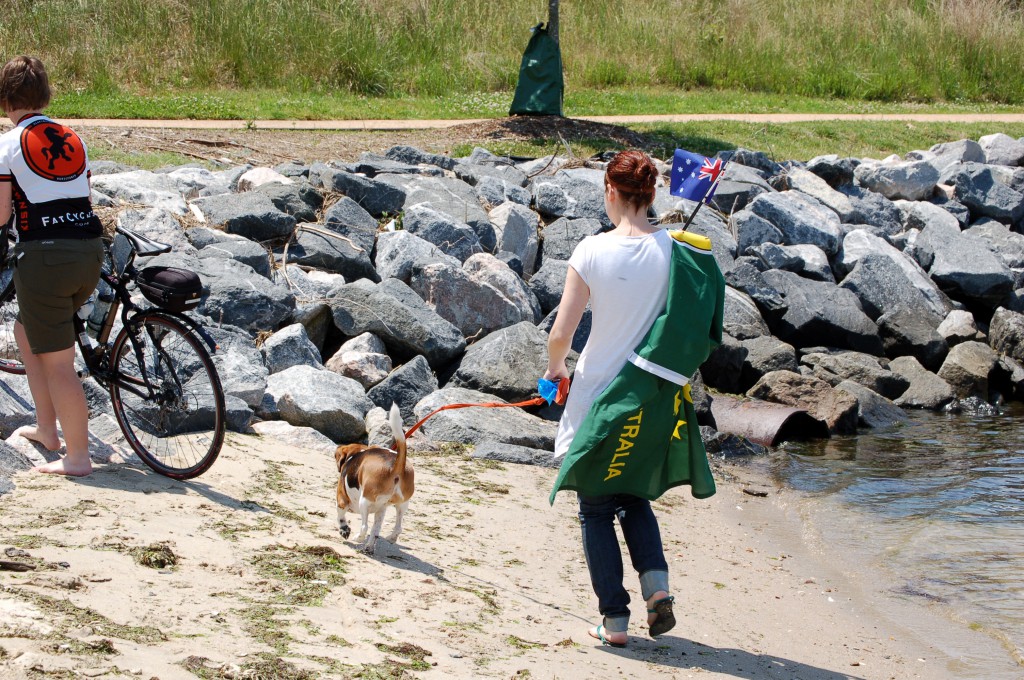 It's not much fun standing around watching someone put their kit together, so I apologize for that, but the kids had something do once Zimmerman, the trailer, was attached and all my stuff was aboard. Yes, Christy and Ray got to take a bunch of photos of me at the start. I'm glad, not just for their great company and sendoff, but for the fact that I have some great photos. As we were walking back to the road, two cyclists pulled up and asked if I was about to start the TransAmerica. One of the ladies had done it many years ago and proceeded to give me a real boost about how awesome an experience it was going to be.
I really needed that.
And now the hugs. Got some quality ones from the gang, although Stella pretty much ignored me. I turned on the Garmin, hit start, and off I wobbled. (I'll need to try an alternate packing strategy—still haven't quite got the weight distribution right). Down the hill and back onto Water Street. Off at a snail's pace. Not because the load was heavy, but because people around here can't drive.
So, it was only a short ride. Almost 17 miles by the time I got to Williamsburg. The trail is pretty awesome in that it takes you right through the heart of the historical section of the town. I got to see my colonially garbed locals sitting around and chatting about… probably LOST or 24 something.
The final note—I stopped at a Holiday Inn in Williamsburg. I know it's not the camping vision I had for myself, but I'm still a little behind on catching up on emails and setting up links for people who need to know where I am at all times. And quite honestly, I haven't had a lot of sleep the last week. I just wanted to catch up a little before getting into it for reals.
It's the morning of Day 2 right now and it's raining, raining, raining. Steady and consistent with, according to the weather report I just watched, the heaviest rain still to come. This could be a long, but hopefully satisfying day.
Ride on!
NEXT DAY > Day 2: Williamsburg to Glendale